Exposition Critique 17th May 2019. 
The exposition has been down for a week now, and I wanted to take the opportunity to reflect upon my offering for the exposition, and the progression of the project in general.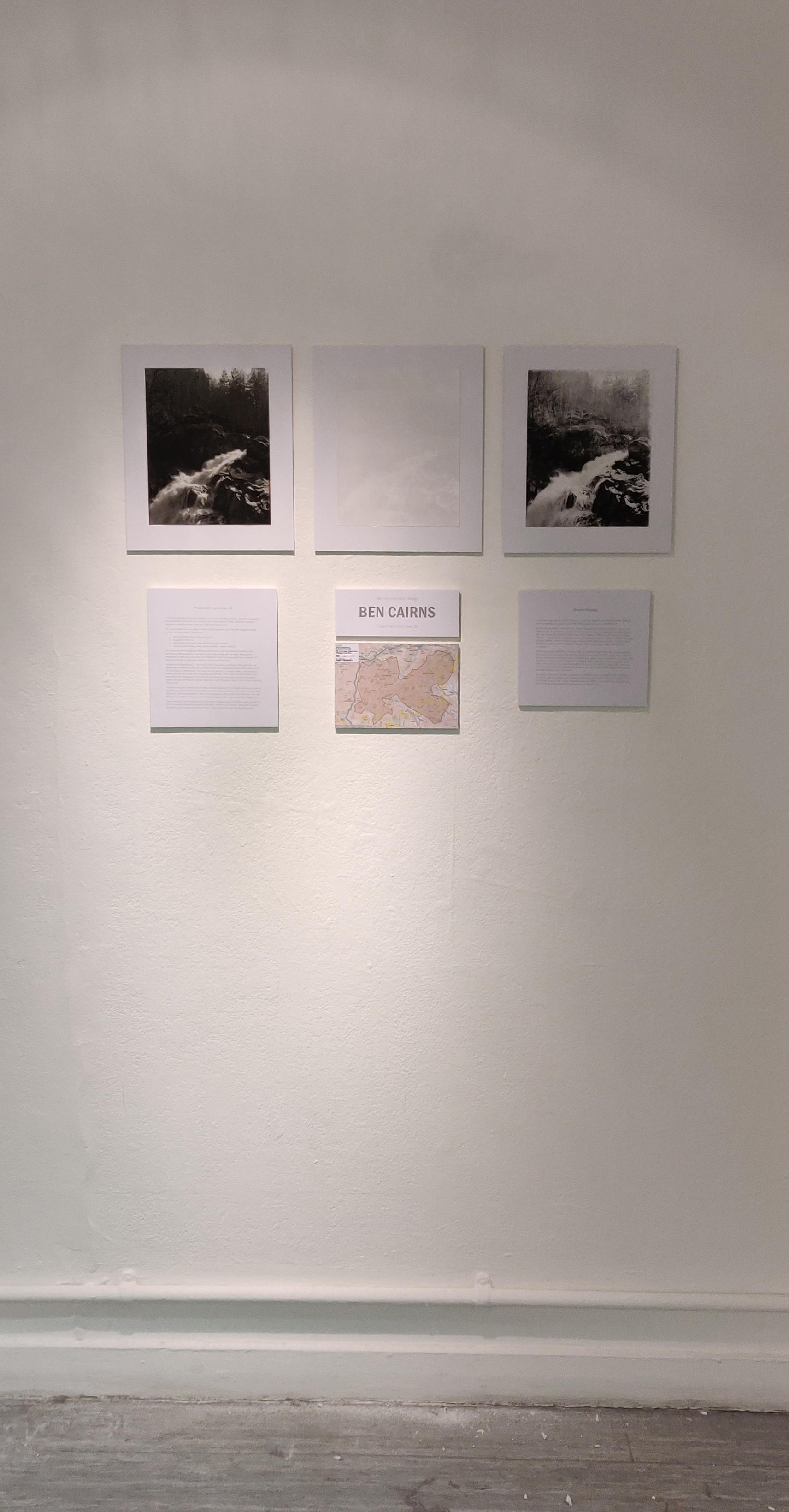 For the exposition I had a selection of images I had taken from the walk to the Falls of Muick. Although the falls are not in the wild land area, I wanted to investigate the appearance of the falls, and how these areas which are close to the boundaries would have elements that may be viewed as wild, and natural. With these images, I could then use them as a comparison to areas within the WLA and gain an insight into how people view landscape and categorise 'wild'.  
I had a selection of negatives that I could use, and I took the approach to print each one in multiples so I could make Bromoil prints, to use it as an opportunity to see how these prints would be perceived and to have a semi-formal presentation, to push me towards producing more resolved prints. 
In printing the range of negatives, I had taken I was able to assess each in terms of content and how relevant they were to the project. Although, what I realised when I printed the negatives, is that I am still stuck in the practice of taking landscape images that I feel are more aesthetically than conceptually driven. This results in me having a disconnect between what I feel the project should be showing, and the options that I have for display.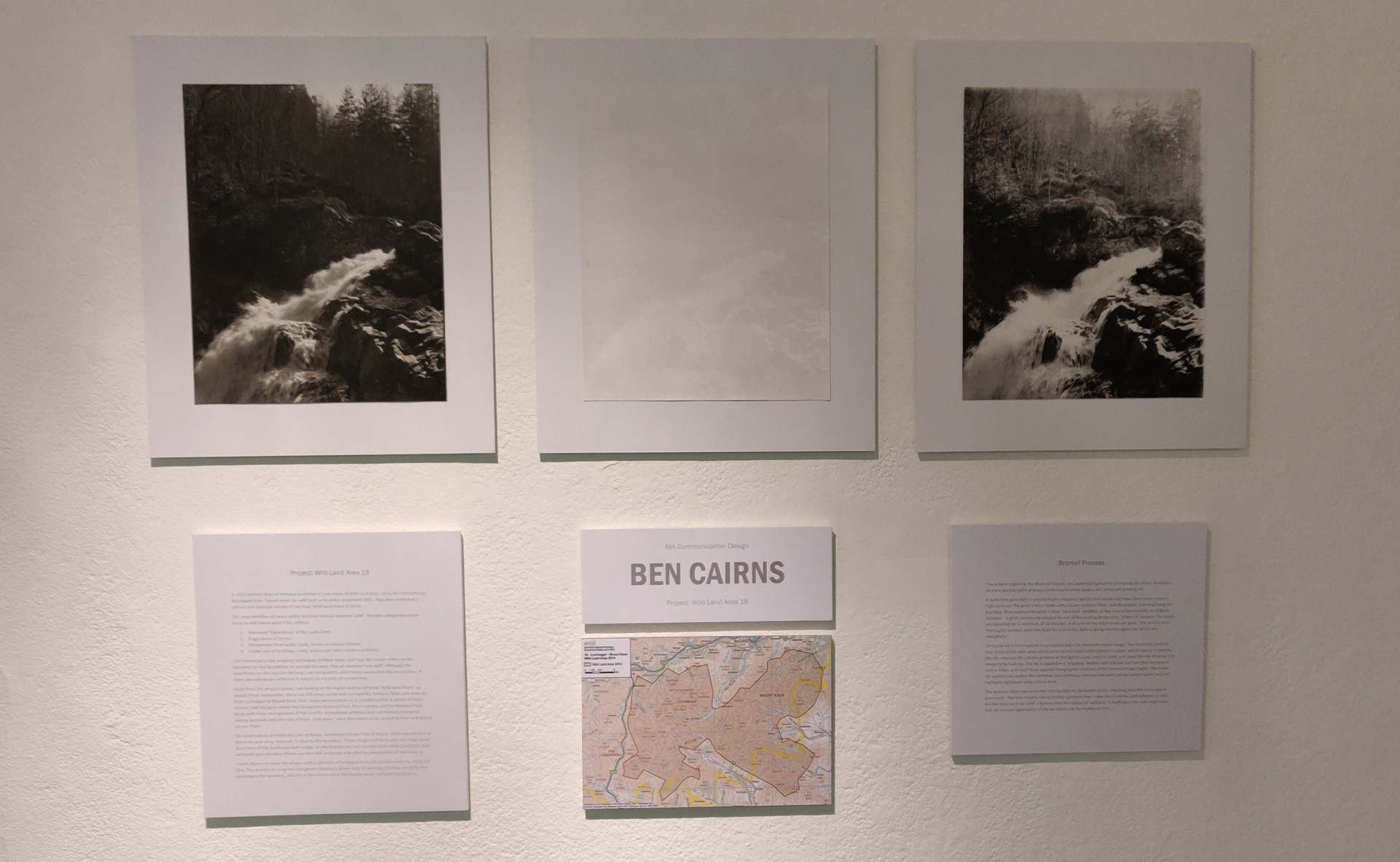 This image I feel falls into that category. Although it has moved slightly from the sweeping vista of the previous exposition, I still feel it falls into the picture postcard category rather than questioning whether an area was wild or not, which was the approach I had been aiming for.  
To this end I will do more research into documentary photographers, and photojournalism. I feel that taking some pointers or tenants from their way of working should fit in well with the project and approach I have in mind. I feel that approaching the image making process with an observational approach, trying to find intimate landscape features, and resisting making images of the larger picture. I feel that this is important as the sum of the parts may give more of an impression into what 'wild land' means rather than taking the 'whole picture'. 
The ethics of the documentary photographers are another element that I will be looking to build into my practice, as there is an understanding of how a photographer should behave when documenting people's lives. One of the tenants, is that it is not the role of the photographer to touch, this is something that is at odds with the John Muir Trust, which suggests as part of their award, that as part of conservation, there should be an effort made to help, to clean up areas, to replant, to get involved.  
As an alternative to the documentary approach, however, is taking to heart the methods of photographers the likes of Thomas Joshua Cooper, who travel to locations with the plan of making a single image. This can involve extensive research, which is not dissimilar from a documentary approach, but the task of constructing a single image, with attention to the weather, returning if the day or lighting is unsuitable, would fit more with the approach I am currently undertaking.  I think there could be a benefit from a more studious method for selecting locations to travel to, and a focus on certain elements to make photographs of. This could allow me to build up a visual document of the features of the wild land area, with a meticulous care afforded to the images. 
Upon reflection, it is neither of these approaches that I will follow, but a piece of both. I feel that the best way of me working, is locating an area or walk of interest. Visiting these locations based upon the mathematically formulae from the Public Perception Survey of Wildness in Scotland, and the Wild Land Maps. This will give me areas of interest, and suggestions of locations that may fit with the type of project I am producing. Yet I need to travel to these places, and I am looking to see if there is an element of the sublime that fit with my understanding and personal feelings of what wildness 'look' or 'feels' like. Once I have visited these spots or locations and photographed a mixture of the larger locations and the minutia details, then I can delve into researching similar types of imagery and locations to see if there is a way that would work to better reflect these ideas. I can then take parameters from the research, for example lighting conditions, weather, times of day and ways of making the photograph, and return to the locations and remake the imagery. I will then be able to assess if the photographs and locations/elements themselves preserve this 'wildness' that intrigued me in the first instance, when revisited and redocumented, or if they are in a state of diminishing returns, where each time it is seen the potency reduces? 
Bromoil and my move away. 
The exposition was produced to demonstrate the Bromoil process and to assess whether I felt it would work with the ideas that I was looking to portray. I took the approach of producing 6 bromoil prints, so I could choose the print that best fitted with the idea of 'wildness'. To go along with this, I produced a darkroom print and a bleached darkroom print for each, to allow me to show the stepped process of bromoil. I would display the darkroom print, the matrix and the bromoil print as a triptych mounted on mounting board and then subsequently mounted on 3mm foam core. The reason for dual mounting was twofold, as I wanted to preserve a white border around the prints, which was in a matt finish, thus the mounting board was used, and I also wanted it to be further raised from the wall, and to sit flush with my interpretation boards, which I had planned to mount as laser copy prints on 5mm foam core. The mounting board was 1.8mm which when coupled with the double weight fibre-based darkroom paper should make up the difference.  
The bromoil print I felt, reached an appropriate level to illustrate the qualities of the medium, with the softness that accentuated the movement in the water and treeline, with the build-up of shadows which depicted a rugged and static rock formation. However, where I felt the display was let down, was with the darkroom print. The issue here is partly due to the fact that there was little contrast afforded in the printing of the negative, to produce a more suitable matrix for the bromoil. Despite this requirement, I also felt that the darkroom print highlighted a lack of skill in the exposure of the negative. I feel that this is one of the largest areas that I need to develop further skills. Due to this, I have decided that I will need to move away from experimenting with alternative printing processes, and firstly consolidate and expand my techniques and skills in darkroom printing. 
I will look to focus on the dodging and burning processes and improve my ability to assess print quality. I have obtained some more books on the subject, in 'The Photographer's Master Printing Course', by Tim Rudman, as well as revisiting the others I own, in 'The Master Printer's Black and White Workbook' by Steve Macleod and 'The Negative', and 'The Print' by Ansel Adams. With study of these texts, discussions with Anne Campbell in the darkroom, and further printing practice, I am hoping to progress my darkroom expertise.  
John Muir Trust Award. 
As part of my research into the Public Perception Survey of Wildness in Scotland, I found that the of the Organisation Members (656) that responded to the survey, 65% of them were members of the John Muir Trust. This intrigued me to find out more about the organisation, and why there was such a high response rate.  
Although I had looked into the John Muir Trust at the initial stage of the project, I hadn't been aware, or had forgotten how focused their mission statement is on the topics that are explored within the Public Perception Survey of Wildness, and the questions surrounding the Wild Land Areas. 
When investigating their website again, I have found that they offer a yearly award, The John Muir Award and The Des Rubens and Bill Wallace Grant. The latter allows applications for funding for £200-2000 to pursue a project based on experiencing wild spaces. "The project should involve travel to wild places, must be adventurous, have an educational or scientific component – and be a life-changing experience leading to a commitment to practical action to conserve wild places". This could be something that I look as a potential to access funding if required for display? The application date is 15th January, so it would need to be next year that I would apply. I will do some further investigating to see if this fits within the project, as I am wary of changing the project to suit funding applications, if it will diverge from my vision for the project and its outcome/benefit. There is a potential exposure benefit from this, and possibly could lead on to further projects, so it is something I will need to weigh up nearer the time. 
Social Documentary and the need to interview.  
Returning to my assessment of the project, I feel that there are a few things that I will need to change with the project moving forward, that isn't necessarily rooted in the photographic element. The first of these is providing more of a Socially Engaged Practice and aiming to produce more of a social documentary. This perhaps could fit in more with the photojournalistic approaches I have been researching.  
I will look to interview and survey people living or working within the Wild Land Area, to discover if they perceive their surroundings as 'wild', and what benefits or drawbacks they feel it brings to their lives. As well as this, I want to explore what residents and workers feels should happen to these areas, as in theory they are the people with the most invested in this space, and likely to be impacted most by any changes. 
I will have to identify the houses within the WLA, and map out the Estates involved, prior to contacting people to arrange interviews. I will also look to make business cards and surveys/questionnaires that I can hand out if I meet anyone during my walks and shoots. I would like to organise some portraits of the people interviewed too, to give a change of pace from the landscape photographs. I feel that this will build a more complete picture of the WLA, hopefully capturing its features and its people. 
Video. 
The other change I wish to make moving forward is with the video logs that I have started producing during my travels. The first one was pieced together to form a 1 hour 40-minute video, with a lot of rambling, and lacked cohesion. Moving forward, I would be looking to condense them into shorter and tighter curated records of the trips. This would allow me to have videos that can be used to illustrate the project, and potentially could be displayed. I can then use the blog and sketchbook to document in depth to go along with these. 
I did find Premiere Pro to be a slow editing process, predominantly due to my lack of knowledge and rustiness in using it. I will look to brush up my video editing skills, and having more time to produce them, than rushing to edit it for the desktop display, should prove a benefit. There are alternative editing suites for instance Davinci Resolve, however as I will likely be using the Mac's at the Annex to edit the videos, I will just stick with Premiere Pro as it is available.